landscape

Display Ad Server

Serve ads in standard fixed-size units
api

Native Ad Server

Build native ads into your web page or app
ondemand_video

VAST Video Server

Serve MP4 video ads as pre-rolls
Display Ad Server
Native Ad Server
VAST Video Ad Server
content_paste
Release Notes
error_outline
Network Status
Terms of Service
Security Policy
Privacy/GDPR
Evaluating Third-Party Ad Tags for Speed
AdGlare is one of the fastest ad servers in the market. If you're running third-party tags, you may not have that performance boost you were looking for. As a publisher, slow ad tags will likely result in a Google SERP penalty and motivates people to use an ad blocker.
AdGlare has several ways to evaluate the performance of third-party ad tags:
Quality Score
Loading Speed
Quality Assurance Scanner
Quality Score to the rescue
The quality score gives you an idea of how fast the ad tag loads. To calculate the quality score, copy/paste the third-party ad tag in the creative box. Then click somewhere outside the box and it will be calculated within seconds. We're evaluating the following:
SSL-Compliancy
Load size (in KB)
Number of HTTP requests
JavaScript Errors
If it drops 3P cookies
The score goes from 1 to 100 and is calculated based on industry averages and IAB's LEAN guidelines for lightweight ads. Aim for a score > 80.

This is something you want to avoid:

As a publisher, you can consider refusing third-party tags that don't comply with your standards. There's a good reason for that: heavy tags slow down your web page, destroy the user experience and provoke a Google SERP penalty.
A (really) bad example
In the tag above, Sizmek loads a staggering 3.4 MB of data using 29 HTTP requests for just one ad. That's simply jaw-dropping! No wonder people are using ad blockers. Moreover, the ad has 4 JavaScript errors and drops 3P cookies. This is a perfect candidate for further investigation.
Loading Speed
Whereas the quality score is determined by AdGlare's servers with gigabit connections, users generally have slower internet speeds. We therefore measure how fast the ad is loaded from real-world user data. The averages are visualized by bars. Aim for green bars, which means that the ad loads in less than a second.
Here's an example of slow loading ads: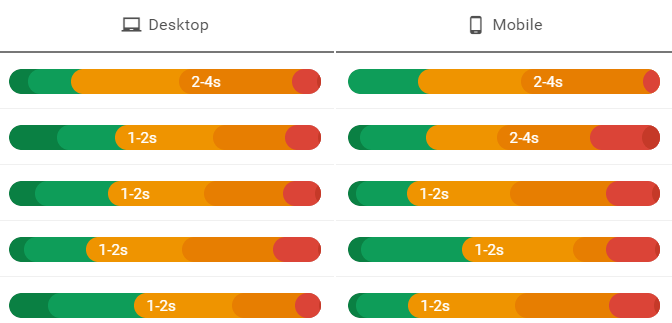 Quality Assurance Scanner
Investigate third-party ad tags further with AdGlare's Quality Assurance Scanner. A tool favorite by our biggest publishers! It's available in the Enterprise edition and works as simple as copy/pasting the tag in the scanner. We'll report back on potential issues like:
GDPR/CCPA cookie dropping
Usage of old synchronous tags
If the tag is blocked by ad blockers
Audio playing without user interaction
CPU/Memory consumption
It will also report all JavaScript errors and warnings the tag produces, as well as all HTTP network requests it makes. Here's an example:
Summary
It's important to evaluate third-party ad tags for speed and performance. Not doing so may have a severe impact on your page's loading speed, the user experience and you'll risk a Google SERP penalty due to slow loading pages.
AdGlare has the tools and features to scan third party tags to evaluate their performance. Use them before they go live! sentiment_satisfied_alt
External Resources
emoji_peopleMore about AdGlare
Since 2013, AdGlare powers the ad serving stack of hundreds of brands and publishers worldwide. With ideas and suggestions coming from Publishers, AdOps and Marketeers like you, we're proud to offer one of the most up-to-date ad servers in the market. We adhere to IAB's LEAN Ads Program and Google's Coalition for Better Ads.
Are you a publisher or brand? Reach out to see how we can help you.