Mobile Responsive Ads
Last Updated:
Ads served by AdGlare are responsive by default on any device. Perhaps you expected an article discussing some CSS and JavaScript coding tricks to make your ads responsive on mobile devices. In that case I have to disappoint you. This functionality works out of the box for all creatives uploaded to AdGlare's CDN. The ad serving engines adjust the size, based on the viewport width, for the following creatives:
PNG/JPG/GIF banners
Iframed third party ads
MP4 Video Ads
Flash Ads (if you still use them)
Responsive third party ads
Note that if you're serving third party ads via AdGlare, these ads are served in mobile responsive iframes. If your third party ad server also supports responsive ads, they will likely detect the iframe's viewport width and display the ad accordingly. Google AdSense is a good example of how they detect the container's width and deliver an advertisement within the available dimension constraints.



Device detection is irrelevant
AdGlare does not use device detection in order to make ads responsive. After all, mobile devices here in 2019 may have a higher resolution than some old laptop screens of the year 2006. Instead, we're using the viewport width or the available document width, in case the ad is displayed in a container with fixed dimensions (like in a sidebar or inside an iframe).



How to confirm responsiveness
If you would like to verify that things are working as expected, you can either:
View the page on a mobile phone
Use Chrome DevTools (CTRL + SHIFT + J) and toggle the device icon.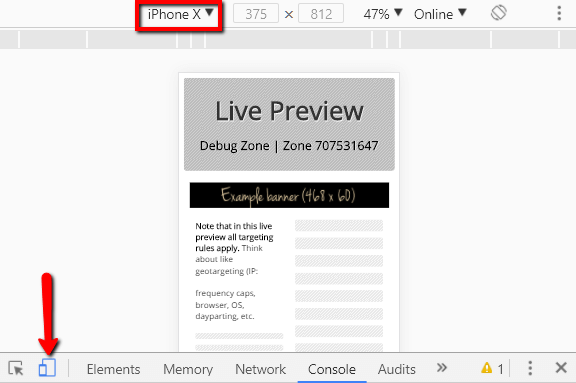 External Resources
Permalink for Bloggers
This article stays online on the following URL: