landscape

Display Ad Server

Serve ads in standard fixed-size units
api

Native Ad Server

Build native ads into your web page or app
ondemand_video

VAST Video Server

Serve MP4 video ads as pre-rolls
Display Ad Server
Native Ad Server
VAST Video Ad Server
content_paste
Release Notes
error_outline
Network Status
Terms of Service
Security Policy
Privacy/GDPR
Bot Filtering for Ads - How to remove Invalid Traffic (IVT)
GoogleBot crawls over the internet 24/7. While doing so, it also loads all ads it finds on your pages. You don't want to count impressions or clicks made those bots, crawlers and spiders. Ad servers like AdGlare use bot filtering to remove invalid traffic from your reports.
Bot traffic accounts for more than 50% of all global internet traffic. An incredible number that can't be neglected. Unless you're running in-house campaigns, it's imperative that your ad server filters bot traffic to avoid report discrepancies and to keep the quality of your sold inventory high.
Half of all internet traffic comes from Bots
Although bot activity fluctuates over the years, we can't deny the huge impact that bots and spiders have on our analytical data. Back in 2016, Incapsula released a great infographic to give us an update on where we're heading. Bots are accounting for 51.8% of all internet traffic.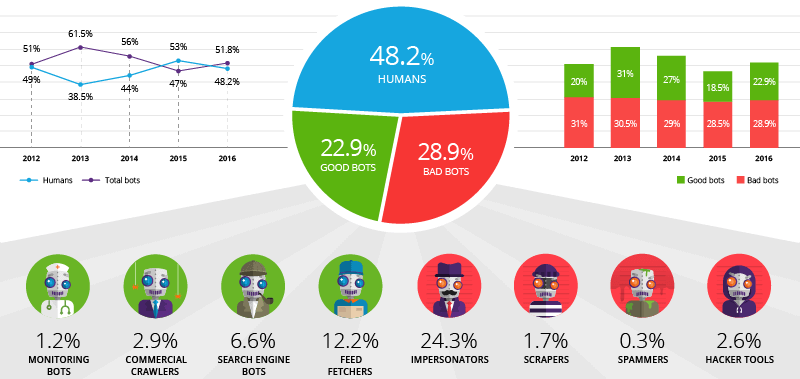 Source: Incapsula
How does bot detection work?
Genuine bots and crawlers tell us who they are via the User-Agent string that is passed along with each HTTP request. This string will be matched against IAB's list of known bots and spiders to determine if we're dealing with human or non-human traffic. For example, Googlebot uses the following user agent string:
Mozilla/5.0 (compatible; Googlebot/2.1; +http://www.google.com/bot.html)
The Media Rating Council (MRC) has set a standard for detection and filtering of invalid traffic. If the ad serving engines receive a request from such a user agent, an advertisement will be returned but the impression or click will simply not be logged. AdGlare uses this method to make sure page layout remains the same whether a bot or a human visits the page. This is important to let Google determine which content is above the fold - a significant factor in SEO.
What happens if I don't filter for bots?
In the online advertising industry, publishers are getting paid to show ads. Advertisers buy inventory to show ads to attract potential consumers, which are humans, not bots or automated scripts. As most inventory is sold on a CPM basis, it doesn't make sense to serve half of the campaign to non-human traffic.
If you don't filter for bots:
your CTR will decrease
your Conversion Rate will decrease
the quality of your sold inventory will take a hit
It's therefore common practice for advertisers to insist on filtering bots when closing a deal with a publisher or ad network.
The Complete Bot List of 2023
The Interactive Adertising Bureau (IAB) maintains a list of all known bots and spiders. Ad Tech companies like AdGlare can subscribe to this list to make sure we're all filtering the same type of bots. We're filtering for the following:
360Spider
ADMantX
AHrefs Bot
Aboundexbot
Acoon
AddThiscom
Alexa Crawler
Amorank Spider
Analytics SEO Crawler
ApacheBench
Applebot
Archiveorg Bot
Ask Jeeves
BLEXBot Crawler
BUbiNG
BacklinkCheckde
BacklinkCrawler
Baidu Spider
BazQux Reader
BingBot
BitlyBot
Blekkobot
Bloglovin
Blogtrottr
Bountii Bot
Browsershots
Butterfly Robot
CSS Certificate Spider
CareerBot
Castro 2
Catchpoint
Cc Cc Bot
CcBot Crawler
Charlotte
Cliqzbot
CloudFlare AMP Fetcher
CloudFlare Always Online
Collectd
CommaFeed
Datadog Agent
Dataprovider
Daum
Dazoobot
Discobot
Domain ReAnimator Bot
DotBot
DuckDuckGo Bot
EMail Exractor
Easou Spider
EmailWolf
Evcbatch
ExaBot
ExactSeek Crawler
Ezooms
Facebook External Hit
Feed Wrangler
FeedBurner
Feedbin
Feedly
Feedspot
Fever
Findxbot
Flipboard
Generic Bot
Generic Bot
Genieo Web Filter
Gigablast
Gigabot
Gluten Free Crawler
Gmail Image Proxy
Goo
Google PageSpeed Insights
Google Partner Monitoring
Google Structured Data Testing Tool
Googlebot
Grapeshot
HTTPMon
Heritrix
Heureka Feed
HubPages
HubSpot
ICCCrawler
IIS Site Analysis
IPGuide Crawler
IPS Agent
Ichiro
Inktomi Slurp
Kouio
LTX71
Larbin Web Crawler
Lets Encrypt Validation
Lighthouse
Linkdex Bot
LinkedIn Bot
Lycos
MJ12 Bot
MagpieCrawler
MagpieRSS
MailRu Bot
Masscan
Meanpath Bot
MetaInspector
MetaJobBot
Mixrank Bot
Mnogosearch
MojeekBot
MonitorUs
Munin
NLCrawler
Nagios Checkhttp
NalezenCzBot
NetEstate
NetLyzer FastProbe
NetResearchServer
Netcraft Survey Bot
Netvibes
NewsBlur
NewsGator
Nmap
Nutchbased Bot
Octopus
Omgili Bot
OpenLinkProfiler
OpenWebSpider
Openindex Spider
Orange Bot
Outbrain
PHP Server Monitor
PagePeeker
PaperLiBot
Phantomas
Picsearch Bot
Pingdom Bot
Pinterest
PocketParser
Pompos
PritTorrent
QuerySeekerSpider
Qwantify
ROI Hunter
Rainmeter
RamblerMail Image Proxy
Reddit Bot
Riddler
Rogerbot
SEOENGBot
SEOkicksRobot
SISTRIX Crawler
SSL Labs
SafeDNSBot
Scooter
ScoutJet
Scrapy
Screaming Frog SEO Spider
ScreenerBot
Semrush Bot
Sensika Bot
Sentry Bot
Seoscannersnet
Server Density
Seznam Bot
Seznam Email Proxy
Seznam Zbozicz
ShopAlike
ShopWiki
SilverReader
SimplePie
Site24x7 Website Monitoring
SiteSucker
Sixych
Skype URI Preview
Slackbot
Sogou Spider
Soso Spider
Sparkler
Speedy
Spinn3r
Sputnik Bot
Sqlmap
StatusCake
Superfeedr Bot
Survey Bot
TLSProbe
Tarmot Gezgin
TelgramBot
TinEye Crawler
Tiny Tiny RSS
Trendiction Bot
TurnitinBot
TweetedTimes Bot
Tweetmeme Bot
Twitterbot
URLAppendBot
UkrNet Mail Proxy
UniversalFeedParser
Uptime Robot
Uptimebot
Vagabondo
Visual Site Mapper Crawler
W3C CSS Validator
W3C I18N Checker
W3C Link Checker
W3C Markup Validation Service
W3C MobileOK Checker
W3C Unified Validator
Wappalyzer
WeSEESearch
WebSitePulse
WebThumbnail
WebbCrawler
Willow Internet Crawler
WordPress
Wotbox
YaCy
Yahoo Cache System
Yahoo Gemini
Yahoo Link Preview
Yahoo Slurp
Yandex Bot
YetiNaverbot
Yottaa Site Monitor
Youdao Bot
Yourls
Yunyun Bot
Zao
Zgrab
Zookabot
ZumBot
How to enable Bot Filtering in AdGlare
It's highly recommended to enable bot filtering to minimize discrepancies with third-party ad servers, especially if you're a publisher. To do so, follow these steps:
1
Click
Settings
and then
Global Settings
2
Click the
Engine Nodes
tab
3
Enable
IVT & Bot Filtering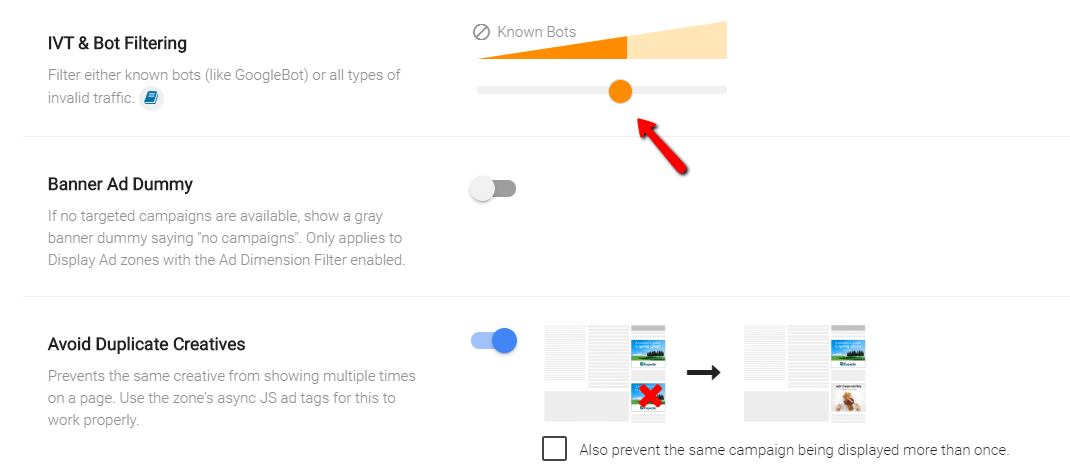 Filtering IP addresses from Malicious Networks
In addition to filtering invalid traffic from bots, you may also want to consider to filter requests made from known malicious networks. A quick search on Google can provide you with a list of IP addresses (likely CIDR notations) from networks known to be infected with software to automatically crawl pages to artificially inflate impressions. AdGlare can filter those impressions and clicks at two levels:
Campaign level. See the Targeting Rules tab when editing a campaign.
Server level. See the page Settings

arrow_forward

Global Configuration.
Note that IP filtering works slightly differently than described above. Instead of returning an ad, the engines will simply respond with 'no ads available' for requests made from those IP ranges. The end result is the same: these impressions and clicks are not logged whatsoever, keeping your statistical reports free of bot traffic.
More ways to increase inventory quality
Now you're on track to improve your CTR and the quality of your inventory, it's absolutely worth it to consider the following practices as well.
Lazy-Loading Ads. A banner is only loaded when it's scrolled into view, right in front of the visitor's eyes. Highly recommended, as it doesn't make sense to load ads below the fold that are never seen. It will also make your pages load faster, improving your position in the SERPs.
Nofollow attributes. This avoids passing on the link juice to low authority domains on outbound links. Buying links is a black hat SEO technique, penalized by Google.
External Resources
emoji_peopleMore about AdGlare
Since 2013, AdGlare powers the ad serving stack of hundreds of brands and publishers worldwide. With ideas and suggestions coming from Publishers, AdOps and Marketeers like you, we're proud to offer one of the most up-to-date ad servers in the market. We adhere to IAB's LEAN Ads Program and Google's Coalition for Better Ads.
Are you a publisher or brand? Reach out to see how we can help you.